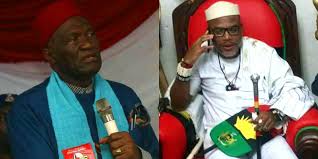 The leadership of the Indigenous People of Biafra has accused the President General of Ohanaeze Ndigbo, Nnia Nwodo of sabotaging efforts of the group and the Igbo race towards the realization of the Sovereign State of Biafra.
The Spokesman of IPOB, Comrade Emma Powerful in a statement issued to newsmen on Saturday said that the statement released by Nwodo where he denied agreeing to cede any part of the Southeast for the purpose of RUGA said that the group views Nwodo's comment as "cowardly anti-Biafra utterance with the utmost contempt that it deserves."
Continuing the group in the statement said "Such a statement coming from the leader of Ohaneze Ndigbo group is a clear demonstration that our clamour for freedom, which is presently resonating all over the world, is of no concern to these unrepentant Fulani slaves.
"By virtue of this unguarded comment, Nnia Nwodo has effectively flown the white flag of surrender before his caliphate masters. To the discerning, what he has done is to send a coded message to the Sultan that as long as he remains Ohaneze Ndigbo group President-General he will continue to undermine IPOB Biafra restoration effort. This statement is merely an extension of his public declaration in Lagos last year that he will use his last strength to sabotage any effort by IPOB to restore Biafra.
"Nnia Nwodo may have succeeded in reinforcing his one Nigeria credentials and reassuring his masters in the north that his treachery against his people will continue, but one inescapable fact he and his masters must know is that we in IPOB are more than determined, we are undeterred, unfazed and remain puritanically fanatical to our core pursuit of Biafra liberation and freedom for all oppressed people.
"No amount of letter writing, sponsored media attacks against IPOB, name-calling, cheap propaganda or Fulani boot-licking from these sell-outs will stop Biafra from coming. We have sacrificed a lot in blood and sweat to allow natural-born traitors to derail our effort. IPOB is not Ohaneze Ndigbo group, our ethos and modus operandi is the exact opposite of theirs. They sell our people, we defend our people; they sell our interest, we demand our right.
"For purposes of clarity, IPOB is not in the same league with Ohaneze Ndigbo group. First of all our name IPOB is self-explanatory. Indigenous people of Biafra is a name that comprises all indigenous peoples in the old Eastern Region; that is the entire area now referred to as southeast and South-South including parts of Lower Benue."
The group who said that they were unfazed with the statement of the Ohanaeze leader said "Ohaneze Ndigbo group is a social-cultural organisation dedicated to protecting the interest of her leaders to the detriment of the wellbeing of Igbo people. IPOB represents the entire people that makeup Biafra. Igbo is Biafra but Biafra (IPOB) is not Igbo alone.
---
Disclaimer: infonte9ja.com shall not be liable to Opinions, Articles or Features that doesn't emanate from any of its staff and management. We also wish to reiterate that such personal or sponsored opinion, article or feature does not reflect the views of the publishers of infonet9ja.com, but the writer's
---
For publication of your news content, articles, videos or any other news worthy materials, please send to infonetnews9ja@gmail.com | For Advert and other info, you can call 09061217047 or send a WhatsApp Message to 09061217047
---
"Anybody linking Ohaneze to Biafra restoration is either an agent of the Fulani caliphate or being driven by petty jealousy, envy, and wickedness against IPOB. For the avoidance of doubt, IPOB is not only world-renowned but remains the largest freedom fighting movement on this planet earth dedicated to the ultimate restoration of Biafra. "IPOB has redefined freedom fight along with the principle of nonviolent self-emancipation through a referendum. International institutions are researching and writing about IPOB, scholars around the world have made IPOB style of freedom fighting subject of academic research and evidence abound to corroborate this. For us, Biafra restoration is irreversible and no force or principality in high and low places can prevail against it. This is the message Nnia Nwodo should take to his Arewa masters."