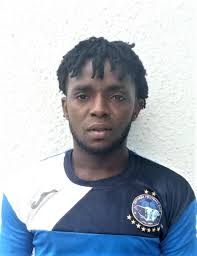 Having played for Mountain of Fire and Miracles Ministries Football Club of Lagos and Heartland FC where he was among the first-choice players, Chukwuka Onuwa Emmanuel who is currently playing for Enyimba International Football Club of Aba in this interview speaks on how he has been able to keep his cool even though he is being kept on the bench
You appear to be the darling of Enyimba fans. How did you win the love of the fans?
I am very happy that the fans of Enyimba have been supporting me since I came to club. The management and other players of the club have equally shown me great support and they have encouraged me even in the field of play.
I have always wanted to give my all to the club anytime that I was called upon to play and you can see that whenever that I am being called upon to play. I want to keep working hard and I hope that God will continue to give the strength to continue doing so.
You have had game time under Coach Usma Abdallah and Fatai Osho with different techniques. How were you able to adapt to their techniques?
It is simple. As a football player, anywhere you go, you have to try your best to adapt to the club's playing pattern.
I once played under Coach Fidelis Ilechukwu, the current coach of Heartland Football Club and I played almost five seasons under his tutelage before moving to Enyimba International Football Club.
Under Coach Usman Abdallah, I came in and quickly adapted to his tactics and techniques and that helped me to get along with the team.
Coach Fatai Osho's technique is similar to that of my first coach; Coach Ilechukwu. I am adapting quickly to the techniques of Coach Fatai Osho because it is the kind of pattern that I like to play.
I have been working hard during training and my utmost desire is to help my team to keep winning.
The two managers; Usman Abdallah and Fatai Osho seem to have been using you as a substitute, what is your take on that?
I don't want to say much about that. I believe what God can do and I believe in my ability as well.
I am not a first or second half player. Like I said, I give my best whenever that the coach deemed it necessary that I should play. All that I need is to go into the pitch to play.
I am paid to play football. Even if I am not paid, I will still play. This is what I have the passion for. Regardless of the time on the pitch, I will definitely make an impact whenever I am called upon to play.
I know the potential in me and I give God the glory as well.
Are you concerned that you have not been playing regularly under Coach Abdallah and Fatai Osho?
I won't say that I feel disappointed, but sometimes I am concerned because in my former team before I came to Enyimba, I have been a regular player for the five seasons that I played there. However, as a player, I need to work on the lapses that are on ground.
---
Disclaimer: infonte9ja.com shall not be liable to Opinions, Articles or Features that doesn't emanate from any of its staff and management. We also wish to reiterate that such personal or sponsored opinion, article or feature does not reflect the views of the publishers of infonet9ja.com, but the writer's
---
For publication of your news content, articles, videos or any other news worthy materials, please send to infonetnews9ja@gmail.com | For Advert and other info, you can call 09061217047 or send a WhatsApp Message to 09061217047
---
I wouldn't say that I am angry because, for me, the success of the team is more important to me right now than individual glory. If the team is successful, I will be successful too. It doesn't matter when I am called to play; the important thing for me is to keep working hard, in football, everything has its own time.