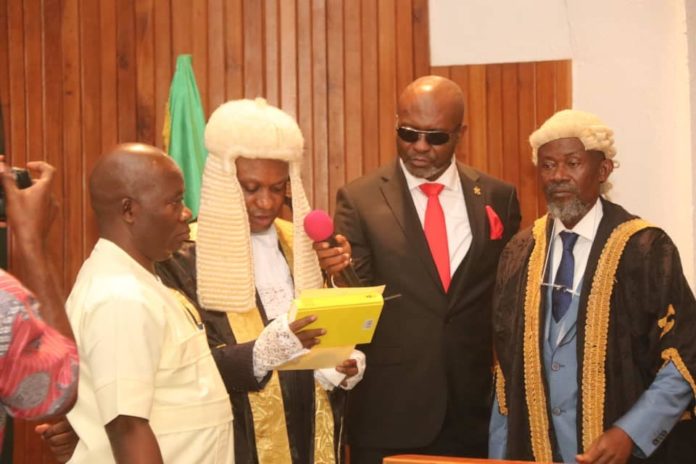 Members of the Abia State House of Assembly on Monday unanimously elected former majority leader and the lawmaker representing Umuahia Central State Constituency as the Speaker of the State 7th Assembly, Hon Chinedum Orji.
Orji whose father is the immediate past governor of the state and incumbent senator representing Abia Central (Senator Theodore Orji) at the National Assembly, succeeded his predecessor, Rt. Hon. Chikwendu Kalu, member representing the people of Isiala Ngwa South State Constituency whom it was rumoured to have nursed the ambition of seeking re-election as the Speaker of the 7th Assembly, but could not get the backing of other members and stakeholders in the state especially, from the ruling People Democratic Party (PDP) in the state.
Other principal officers that emerged at the first plenary of the Abia 7th Assembly include
Deputy Speaker, Rt. Hon. Ifeanyi Uchendu, representing Ohafia South State Constituency
Majority leader, Solomon Akpulonu, Obingwa East
Deputy Majority, Hon Paul Taribo, Ukwa East
Munachim Alozie, Chief whip, Ugwunagbo
Chukwudi Apugo, Deputy Chief Whip, Umuahia east
Minority leader, Hon. Abraham Oba, Aba Central
Deputy minority leader, Hon. Chukwu Chijioke, Bende North
In his acceptance speech after being sworn-in by the Clerk of the House Pedro Irokansi, Orji promised the unflinching support of the 7th Assembly to Governor Okezie Ikpeazu in taking the state to the height that he wants to leave it.
The new Speaker who stated that the 7th Assembly will be result oriented driven, added that they would not be allowed to be used as instrument of witch hunt on past and present leaders of the state.
According to him "I will endeavor to do my best to continue to serve this confidence and trust that you have so resoundingly reposed in me today, God being my helper, I will not disappoint you. I know that a number of us; members of this 7th Assembly were eminently qualified to emerge as the speaker of this house, but you have chosen me to lead you as the first among equals. I bear no grudges against anyone who indicated interest in contesting this seat as they were exercising their natural prerogative. I therefore call on my friends and supporters not to cast on aspersion on anybody in my name. We are one family and we will remain so. As it is customary, in a short while, I shall rollout my comprehensive agenda and direction that we shall pursue in this 7th House of Assembly, but for now let me highlight these key points that shall serve pointers to where we are headed.
"This 7th Abia State House of Assembly shall be vibrant and result oriented. We are the house of the people, by the people, and for the people. And we shall endeavor to make the people the center point of all our actions and decisions. We are therefore, committed to the enactment of sound laws and legislation that will help in uplifting the lives and wellbeing of Ndi Abia.
"The 7th House shall provide very sound and strong oversight function, while the era of disobeying laws and resolutions passed by the Abia State House of Assembly is now over. Similarly, the era of non implementation of the directives and vision of the Executive as headed by our governor Dr. Okezie Victor Ikpeazu is now over.
"Appropriate sanctions shall be meted out to any official of the Abia State government found not to be helping our governor to actualize his vision for the state.
"The leadership of the 7th Assembly shall pay paramount attention to the welfare and wellbeing of its members. I shall work with our leader, the governor to ensure that all entitlements of House members get to them as at when due. We shall run transparent administrations that will no question unanswered.
"Members of the 7th Assembly shall be empowered to enable them empower their constituents. This is because the electorates that elected us do not differentiate between the legislature and the Executive in terms of provision of social amenities. Once you are in government, you are expected to provide amenities even though that is not the primary function of members of House of Assembly. We will empower members to ensure that the expectations of their constituents are met.
---
Disclaimer: infonte9ja.com shall not be liable to Opinions, Articles or Features that doesn't emanate from any of its staff and management. We also wish to reiterate that such personal or sponsored opinion, article or feature does not reflect the views of the publishers of infonet9ja.com, but the writer's
---
For publication of your news content, articles, videos or any other news worthy materials, please send to infonetnews9ja@gmail.com | For Advert and other info, you can call 09061217047 or send a WhatsApp Message to 09061217047
---
"As it has been our tradition in this House, once we gather to deliberate on issues, we do not have party divides and partisan leanings. The welfare of the people of Abia State is always our watchword and I am aware that members were elected to this house under the platform of different political parties. But I call on my colleagues to uphold on our age long tradition and eschew partisan rancor and continue to allow us speak with one voice for the good people of Abia State.
"Our major role in this House shall be the protection, reservation of the equity and justice already entrenched in the state and symbolized by the current governor of the state, Dr. Victor Okezie Ikpeazu. I therefore call on all agents of confusion to sheath their swords and allow us to face the task before us. Let no attempt be made to sow the seed of discord between us; members of the legislature and Executive. Any such attempt will be dead on arrival."