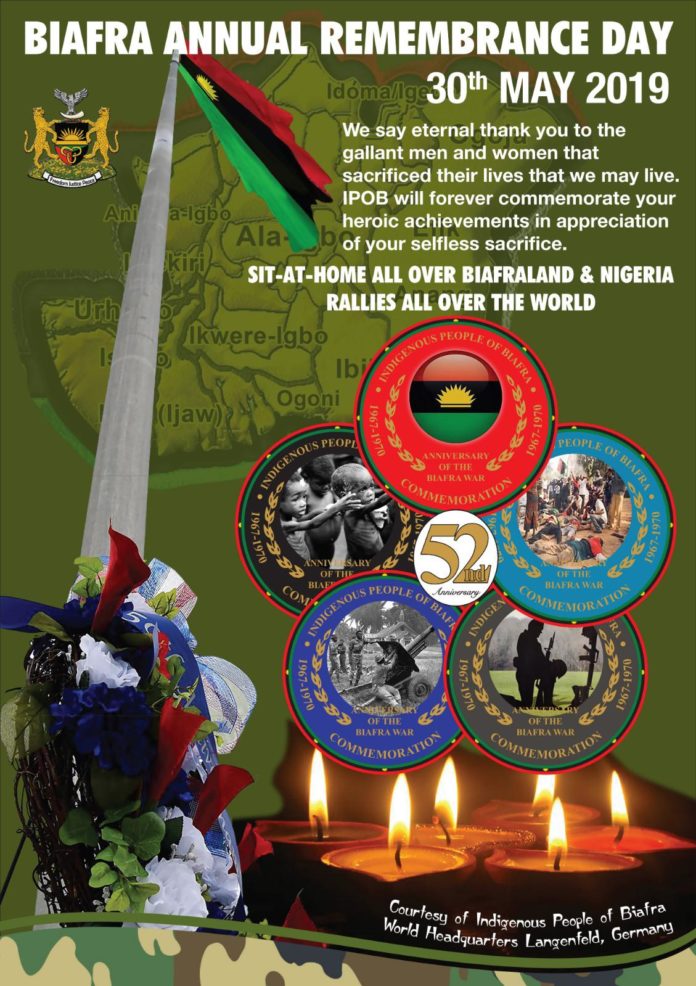 The leadership of the Indigenous People of Biafra (IPOB) on Tuesday called on its members and other supporters of the group in Nigeria and other parts of the world to embark on a three-day, starting from Wednesday (May 27th) to Saturday (May 30th).
The Publicity Secretary of the pro-Biafra group; Comrade Emma Powerful in a statement issued on Tuesday said that the decision for the global prayer was reached after the high command of the group met, stating that the decision was in line with the remembrance of Biafra Fallen Heroes ahead of this year's Biafra Day scheduled to hold on May 30.
"This year's anniversary will begin with reading of Psalms of David from chapter 1 to the last chapter. Every individual and group(s) should observe this year's prayer designed to remember our fallen heroes and heroines who paid the ultimate price for our living.
"We shall also use this year's event to pray for divine protection of all Biafrans everywhere on the surface of the earth against the covid-19 pandemic ravaging the world. We shall also pray for the speedy recovery of all those infested with the scourge, and for immediate end of the global pandemic."
Unlike the past years where the leadership of IPOB led by Nnamdi Kanu had asked members to mark the day in their various homes, Powerful in the release disclosed that the group would be holding a candle procession across the length and breathe of the country.
According to Powerful, there won't be any sit- at -home or indoors their members have being at home in the past two months as a result of the coronavirus lockdown.
"IPOB wouldn't like to bother people with another lockdown in form of sit-at -home."
"We, the global and indefatigable family of Indigenous People of Biafra (IPOB) ably led by Mazi Nnamdi Kanu, the prophet and liberator of our time, wish to announce to the people of Biafra, friends of Biafra, enemies of Biafra, lovers of freedom, as well as the world that Biafrans will remember and commemorate our fallen heroes and heroines who made the supreme sacrifice for us to live, on 30th of May 2020.
"After much consideration and deliberations IPOB high command decided to urge Biafrans both home and in the diaspora, observe this year's rememberance and celebration of our brothers and sisters who were killed and starved to death during the genocidal war on the peaceful land of Biafra by Nigeria government and her foreign allies including Britain, Egypt, USSR and Czechs Republic between 1967 and 1970, through fasting and prayers.
"The programme for this year's event, will last for three days from 27th to 30th of May, 2020.
"This year's episode and event will start with prayers and end with prayers. There will also be candle processions at every state, LGA, ward and church in our land.
"It is very imperative that our people observe these great days for those who paid ultimate price and sacrificed their youthful lives for our own lives to be today. This great event will start on 27th and end on 30th of May.
"There won't be any sit- at -home or indoors because our people stayed much days at home during the coronavirus lockdown. IPOB wouldn't like to bother people with another lockdown in form of sit-at -home.
"Nigeria government and her partners in crime decided to wipe out the whole race but God Almighty in Heaven, 'Chukwu Okike Abiama' said no to that through these our brethren who sacrificed their lives for us to live.
"Therefore, IPOB families and Biafrans across countries of the world are encouraged to use this year's anniversary to pray for all our fallen heroes including all those who were killed by the overzealous Nigeria security personnel in the course of the renewed quest to restore Biafra."
Meanwhile, information reaching our reporter has it that various security agencies in Abia State have held a Show of Force exercise in the state.
The exercise headed by the Police, Abia State Command had the participation of army, and other security and para-military had patrolled major streets of Aba in convoy.
When contacted, a senior security official confirmed the Joint Show of Force of security personnel, adding that it was preparatory to the May 30th Biafra Day.
---
Disclaimer: infonte9ja.com shall not be liable to Opinions, Articles or Features that doesn't emanate from any of its staff and management. We also wish to reiterate that such personal or sponsored opinion, article or feature does not reflect the views of the publishers of infonet9ja.com, but the writer's
---
For publication of your news content, articles, videos or any other news worthy materials, please send to infonetnews9ja@gmail.com | For Advert and other info, you can call 09061217047 or send a WhatsApp Message to 09061217047
---
According to the personnel who would not want to be mentioned said that the essence of the Show of Force is to warn any group of persons and individuals who may want to cause bridge of law and order in the state to have a rethink as they (security) agencies would not fold their arms to watch unscrupulous individuals cause a breach of peace in the state.