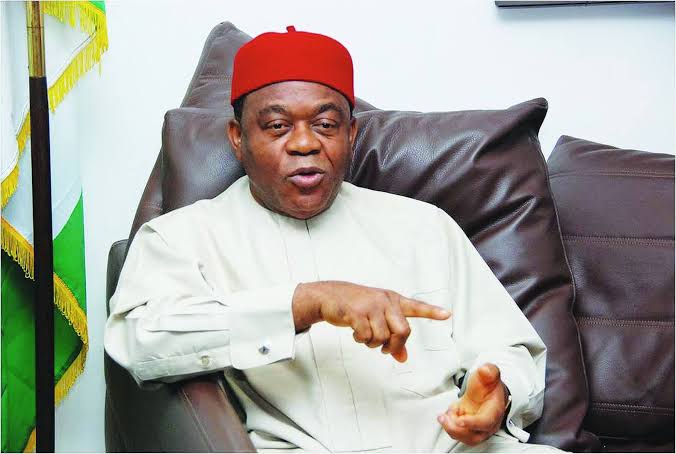 A non Governmental Organization, Old Bende Media Forum has uncovered a plot to print and circulate Presidential Campaign Posters of the Senator Representing Abia Central Senatorial District Senator Theodore Ahamefula Orji(Ochendo Global).
The Group in a statement jointly signed On Sunday In Umuahia by It's Chairman, Mr. Sunday Nwaigwe and Secretary Mr. Collins Kalu said that intelligence report at their disposal confirms that the plot is hatched by bunch of politically impotent politicians whose intentions are to malign the family that has in one way or the other helped them in this life.
The release revealed that these faceless individuals, having failed in their 4th attempt of clumsy and senseless write up of producing two purported "agreements " between the Senator Representing Abia Central Senatorial District Senator Theodore Orji and the Governor of Abia State Dr Okezie Victor Ikpeazu without even letting the whole world know which of the agreements is real, have now come up with another attempt of printing and circulating Presidential Campaign Posters of Senator Theodore Orji.
According to them, ordinarily they would not have bothered talking about the jobless elements and their plots but to help expose the political incompetence of" these bunch of pretenders".
They stated the need for the plotters to know that the independent National Electoral Commission(INEC) has a timetable which makes it illegal for one to print and paste posters of 2023 elections in this 2020.
---
Disclaimer: infonte9ja.com shall not be liable to Opinions, Articles or Features that doesn't emanate from any of its staff and management. We also wish to reiterate that such personal or sponsored opinion, article or feature does not reflect the views of the publishers of infonet9ja.com, but the writer's
---
For publication of your news content, articles, videos or any other news worthy materials, please send to infonetnews9ja@gmail.com | For Advert and other info, you can call 09061217047 or send a WhatsApp Message to 09061217047
---
The release which wonders why people are afraid of Senator Theodore Orji further advised Abians and general public to discountenance these jobless elements who are bent of tarnishing the hard earned image of the Father of Equity in Abia.