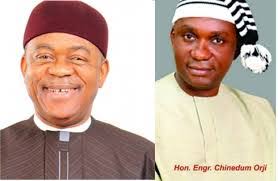 The Speaker Abia State House of Assembly, Rt Hon Chinedum Enyinnaya Orji has vehemently rejected the apology by the owner of one of the popular blogs in the country; Igbere TV, Mr. James Emeh concerning the report about the arrest of the speaker and his dad, Senator Theodore Ahameule Orji representing the people of Abia Central by the Economic and Financial Crimes Commission (EFCC).
A release by Mr. Jude Chijioke Ndukwe, Chief Press Secretary to the Abia State House of Assembly Speaker read "The "Apology" by Igbere TV to the Abia State Speaker, Rt Hon Chinedum Enyinnaya Orji MNSE, and his father, the former Governor of Abia State and Senator representing Abia Central at the Senate, His Excellency, Senator T.A. Orji, is nothing but an afterthought laden with deceit, mischief and malice hidden in the garb of pretentious virtue.
"When we see a truly heartfelt apology borne out of genuine repentance, we know it. But this one by Igbere TV after making himself cheaply available to be used by political elements to attempt to wickedly but futilely disparage Mr Speaker and his father, Senator T.A Orji, is both insincere and banal.
"Having done their worst and seeing that all their evil machinations against Mr Speaker's family are not working, the Igbere TVs of this world are now given to further deceive the public by putting up a lame and dispirited apology. Their game has failed!
---
Disclaimer: infonte9ja.com shall not be liable to Opinions, Articles or Features that doesn't emanate from any of its staff and management. We also wish to reiterate that such personal or sponsored opinion, article or feature does not reflect the views of the publishers of infonet9ja.com, but the writer's
---
For publication of your news content, articles, videos or any other news worthy materials, please send to infonetnews9ja@gmail.com | For Advert and other info, you can call 09061217047 or send a WhatsApp Message to 09061217047
---
"Finally, we urge Abians to beware of political merchants who parade themselves as bloggers but who will do anything including faking their own kidnap, "death and resurrection" to vainly attempt to destroy others just for filthy lucre. "