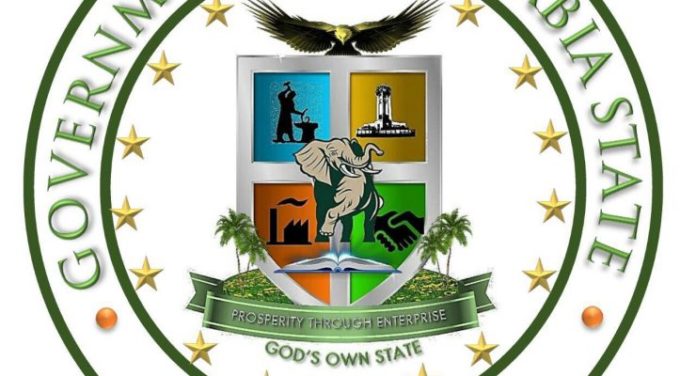 The governor of Abia State, Dr. Okezie Ikpeazu has promised to use his second term to complete all ongoing projects that were awarded in the first term of his administration.
Ikpeazu in a monitored State Broadcast to mark the 28 years anniversary of the creation of the state stated that his administration was committed to ensuring that every part of the state witnessed the touch of his administration even in the second term of his government.
"Since our assumption of office for a second term on the saddle of leadership in Abia State, we have taken steps to consolidate on the successes we recorded in our first term while ensuring that we finish strongly, our second and last lap.
"I wish to reiterate that our cardinal objective in our second term is the completion of all the projects that we began in our first term while laying solid foundations for sustainable job creation for our teeming youths in Abia State.
"Mindful of the difficulty in constructing roads in the rainy season, we have carried out palliative remedial works on many of the bad roads in Umuahia and Aba preparatory to contractors handling them fully returning to site as soon as the rains abate."
On the perennial flooding and absence of contractors on various construction sites in the state, Ikpeazu said "We are currently concentrating on building new drains and the desilting of blocked ones to allow for free flow of storm water to the natural collection points and as soon as the rains abate, contractors, who have already been mobilized, will resume work on most of our over 95 ongoing road projects across the state.
"Beloved Abians, I am not unaware of the complaints that have been made in certain quarters that our projects are slow and delayed. My response to that is that we are more interested in the quality of projects we undertake than the quantity and the speed of completion. We have no interest in speedily completing projects for accolades and applause only for the projects to fail shortly after.
"Our administration is building to last. Within the bounds of the resources available to us, we will spread them equitably across sectors while ensuring that we get optimal value for every money we spend. I have said it before and I will like to reiterate it that no road built under our administration will collapse in the lifetime of our administration contrary to what was hitherto obtainable.
"We do not have the money to be returning to the same project every year. We will rather take time to painstakingly do a project once and for all than rush to finish a project within a year and it will fail by the next year."
The governor who used the opportunity to announce that two shoe factories will be taking off in Aba and Obeaku respectively, stated that it was his hope that the factories if become operational would help to reduce unemployment rate among job seekers in the state.
The governor who assured that the welfare of every Abian is of paramount importance to him, promised to remain transparent and honest with citizens of the state.
On the controversial arrears of salaries and pensions owed to some of the civil servants and retirees, the governor stated "Dear Abians, it will not be fair of me to finish this broadcast without providing accurate update on the salary status in Abia State. I make bold to say that all Ministries and Departments in Abia State have received their July 2019 Salaries and are on track to receive their August 2019 Salaries by the end of this month.
"The workers being owed salaries are mostly staff of Agencies who receive monthly subventions from Government and who were expected to manage their affairs including payment of staff salaries. As the father to all, I will not leave the staff of these Agencies to suffer. I have set up a Committee headed by the Head of Service of Abia State, Sir Onyii Wamah to work out modalities for the liquidation of these arrears so that they can be up to date like their MDAs counterparts.
"We are also reviewing the operations of all revenue-generating Agencies in Abia State to ensure their financial discipline. Let me use this opportunity to also plead with Pensioners for their patience as steps are being taken to ensure a more efficient pension-administration regime in Abia State."
The governor who hinted that the state was set to deliver 250 new classroom blocks across Primary and Secondary Schools in state, deploy Community Security Officials to protect school infrastructure and students and sustain the training and retraining of our teachers both locally and internationally. A move that the governor said is expected to promote teaching, learning and academic performance of students of the state in external examinations.
---
Disclaimer: infonte9ja.com shall not be liable to Opinions, Articles or Features that doesn't emanate from any of its staff and management. We also wish to reiterate that such personal or sponsored opinion, article or feature does not reflect the views of the publishers of infonet9ja.com, but the writer's
---
For publication of your news content, articles, videos or any other news worthy materials, please send to infonetnews9ja@gmail.com | For Advert and other info, you can call 09061217047 or send a WhatsApp Message to 09061217047
---
According to him, arrangements were in advanced state to complete the new Abia State Government House Complex in Umuahia, also announced that the state government has completed a brand new Headquarters Complex for the Zone 9 Command of the Nigeria Police Force which he said will help them carry out their duties effectively and thanked the founding fathers for their foresightedness in conceptualizing the Abia Charter of Equity which he stated that he would sustain to ensure that every part of Abia State is equitably treated in the socio-political evolution of the state.