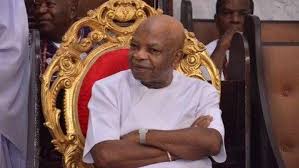 An Anambra born billionaire, Arthur Eze is set to establish a university in one of the eastern states of the country.
This was disclosed by the immediate past Corps Marshal of Federal Road Safety and Minister of Aviation, Osita Chidioka after a private visit to the Enugu residence of the oil magnet on Monday May, 13.
In a personal Facebook page, Chidioka who didn't disclose the state to cite the project wrote after the meeting with Arthur Eze "A few days ago I continued on myself imposed task of engaging Igbo Billionaires to start secondary schools, Polytechnics, Universities or adopt an existing one for full funding.
"I met with Prince Arthur Eze at his residence in Enugu to follow up and encourage him in his quest to establish a University. We have had this discussion over the past 5 years and gradually got to the point where he has committed to establishing one now.
"Arthur is an interesting and intriguing personality. His generosity is legendary and his world view an outcome of his maverick nature.
"We have an agreement. Eze na Ukpo has committed to the university project. I will help (at no cost) in the effort to twin the school with a foreign university and ensure the Engineering school is of a world standard (he is a US trained Engineer).
"Before Warren Buffet started his Giving Away project, The Giving Pledge, Arthur had always talked about the futility of keeping wealth. He had always insisted that he will give away his vast fortune before death and he is doing that.
"Yesterday at the Cathedral of Good Shepherd Enugu he gave a Cheque of 20 million Naira and asked that the Church should take 10M and share 10M to all the poor people who came to church. Again he asked all rich people to give away to the less privileged.
"The university must happen. I will continue to engage him to Stay focused and avoid the ever present distractions he faces.
"Hopefully I will get the other Billionaires, known to me, to commit soon. Education is the key to the future competitiveness of the South East and Nigeria.
---
Disclaimer: infonte9ja.com shall not be liable to Opinions, Articles or Features that doesn't emanate from any of its staff and management. We also wish to reiterate that such personal or sponsored opinion, article or feature does not reflect the views of the publishers of infonet9ja.com, but the writer's
---
For publication of your news content, articles, videos or any other news worthy materials, please send to infonetnews9ja@gmail.com | For Advert and other info, you can call 09061217047 or send a WhatsApp Message to 09061217047
---
"Investing in education or subsidizing it for those who can't afford it, is the best investment of all times. Taa bu gbo".