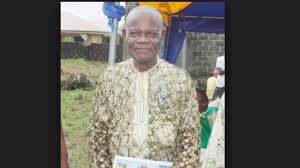 The founder of Block Rosary Crusade (BRC) in Nigeria, Oblate Eusebius D Oguizu has reportedly died years after the movement have gained huge and unprecedented followership especially in the Southeastern part of the country.
Bro. Eusebius as was called started Block Rosary Crusade in 1956 at Aba, Abia State.
Reports have it that the Parishioners of Our Lady Of Lourdes Parish, Aba (where he founded the BRC) celebrated his 79th birthday last year at St Mary's Catholic Parish Abayi-Ariaria, Aba the commercial nerve of the state.
It was learnt that before his death, he was sleeping on iron bed and used block as a pillow as penance for the sins of the world.
He was to have hailed from Urualla, in Ideato LGA of Imo State.
He is said to have survived by his wife, children and grandchildren.May Mother Mary intercede and take his soul to her son Jesus Christ, Amen.
Rest in perfect peace..My special condolence goes to his son.
---
Disclaimer: infonte9ja.com shall not be liable to Opinions, Articles or Features that doesn't emanate from any of its staff and management. We also wish to reiterate that such personal or sponsored opinion, article or feature does not reflect the views of the publishers of infonet9ja.com, but the writer's
---
For publication of your news content, articles, videos or any other news worthy materials, please send to infonetnews9ja@gmail.com | For Advert and other info, you can call 09061217047 or send a WhatsApp Message to 09061217047
---