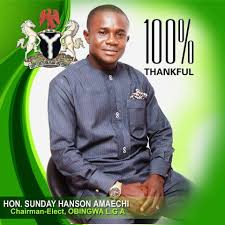 The immediate past Executive Local Government Council chairman of Obingwa LGA and Abia State chapter Chairman of Association of Local Government of Nigeria (ALGON), Hon. Amaechi Hanson, aka Abacha will be presenting two Sports Utility Vehicles (SUVs) to members of his former cabinet today, Monday April 1, 2019.
Hon. Hanson whose Birthday is today, in a post on his Facebook timeline said that two cars which will be presented to his media aide while he served as Obingwa LG chairman; Amb. Bestman Eruba (Ogele Obingwa) and one Hon. Amadi Owuala at Camp Clifford, Obeala Village to enhance their mobility was a collective decision with his wife.
He used the opportunity to thank the governor of the State, Dr. Okezie Ikpeazu, former Deputy Governor, Eric Acho Nwakanma amongst others that helped him get to where he is today.
The post on his wall read thus
"HURRAYY.. IT'S MY BIRTHDAY!!
"Looking back to where I am coming from and where i am today, i will never thank my God enough for HIS unmerited grace, mercy and love He has showered on His beloveth son. Hon Amaechi Sunday Hanson (Abacha)
"Indeed words have failed me, to express my gratitude to Almighty God and others whom God has used as an instrument to bless me..
"* Dr Okezie Victor Chibuikem Ikpeazu and wife, my Boss for life. unu emela oooo.
"* Chief Eric Acho Nwakama, you are an embodiment of light.
"* The Stakeholders of Obingwa LGA, ably led by Chief Rowland Nwakama, and PDP family thanks for your unflinching support.
"Today's birthday celebration will be on a lighter note due to the fact that my beloved mum is lying lifeless in the mortuary awaiting her funeral on April 25th, 2019. May the Gentle Soul of my Mum Rest In Peace.. Amen.
"Meanwhile, this day has offered me another great opportunity to deeply reflect on my past and present, leaving me with the puzzle, on how best I have affected the society I found myself in, within my capacity. Sincerely as a human being, I know I have done my best, yet my best is still not enough, hence I keep unraveling on daily basis thousands and millions of things within and around me that are still undone. May God continue to provide for us so that we can provide for others and the society in Jesus Name… Amen.
"Three days before the death of my mum on 22nd of February, I had made a part payment for two (2) Toyota Camry cars not knowing that I was going to lose my beloveth mum with the huge attendant consequences of burial preparation. But because of the fact that the challenge that warranted the decision of procuring these cars was for me more of spiritual than physical, I continued in the bid. At first, one car was delivered and just last week, the delivery completed..
"Ladies and gentlemen, though i am not celebrating my Birthday but in case you are within us here, you can join me by 2pm today's afternoon as I present these cars to
Amb. Bestman Eruba Ogele Obingwa) My Chief Media and publicity while I served as Executive Chairman Obingwa LGA and Hon Amadi Owuala who is also a former councilor, Abayi ward one. Indeed I have come a long way with Amadi.
"However, God has also in one way or the other in the past or recent times blessed these two young men through me, yet I was always not comfortable seeing any of them with his wife or fiancée (for Eruba who just started the journey of marriage), trek and jump from one okada or keke to another, hence I was confronted with the huge challenge of providing them a mobility. Knowing full well that my tenure ended by December 28th, 2018 and salary was no longer coming, I agreed with my dear wife to make this sacrifice, not minding the fact that God arrested me by January to buy a car for Eldad Monu, a deaf and dumb from Umuobiakwa which I delivered to him a clean Toyota Camry.
"It's only those that worked closely with me that know how much charity and empowerment we have been able to do. Let me once again thank our Governor and the people of Obingwa for the opportunity they gave me which resulted to all I was able to do within the short period i served and even after office. What I am doing today is not borne out of excess resources or richness but as the spirit leads.. thus says the Lord of Host.
"I shall therefore this afternoon, at Camp Clifford, Obeala Village present these cars to the duo.. Mr. Bestman Eruba Esq. And Hon Amadi Owuala on behalf of our Youth friendly Governor, Dr Okezie Victor Chibuikem Ikpeazu…
---
Disclaimer: infonte9ja.com shall not be liable to Opinions, Articles or Features that doesn't emanate from any of its staff and management. We also wish to reiterate that such personal or sponsored opinion, article or feature does not reflect the views of the publishers of infonet9ja.com, but the writer's
---
For publication of your news content, articles, videos or any other news worthy materials, please send to infonetnews9ja@gmail.com | For Advert and other info, you can call 09061217047 or send a WhatsApp Message to 09061217047
---
"Happy Birthday to Me!!!