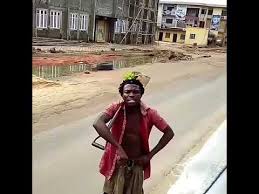 The famous mentally retarded man who became prominent in the social media over his series of attack on the government of former governor of Imo State, Senator Rochas Okorocha and his opposition to the choice of Ugwumba Uche Nwosu as Okorocha's successor during the 2019 general election has relocated to Abia State.
The mad man who never disclosed his name and his state of origin, but maintained that he is a bonafide Nigerian was spotted at the popular Shopping Center.
For people who were familiar with his face especially in the social media, seeing him in Aba was a big surprise as he was noted to base in Owerri.
They wondered how the man could move from Owerri to Aba and also have good knowledge of the happenings in the state as he thrilled shop owners and visitors to the market with his level of oratory.
In this new video at Shopping Center, the mad man who may have either witnessed or read the effect of flooding in Ariaria International Market, Aba questioned the money Abia State government said it has spent on fixing the ever-busy and populous Faulks road
The mad man who stated that Aba can produce industrialists if given the enabling environment to flourish, lamented that Aba is now the dirtiest city in Nigeria.
This is coming months after he said to have been adequately rehabilitated and spotted in a relative's shop.
---
Disclaimer: infonte9ja.com shall not be liable to Opinions, Articles or Features that doesn't emanate from any of its staff and management. We also wish to reiterate that such personal or sponsored opinion, article or feature does not reflect the views of the publishers of infonet9ja.com, but the writer's
---
For publication of your news content, articles, videos or any other news worthy materials, please send to infonetnews9ja@gmail.com | For Advert and other info, you can call 09061217047 or send a WhatsApp Message to 09061217047
---
Please, click on the link below to get the gist firsthand