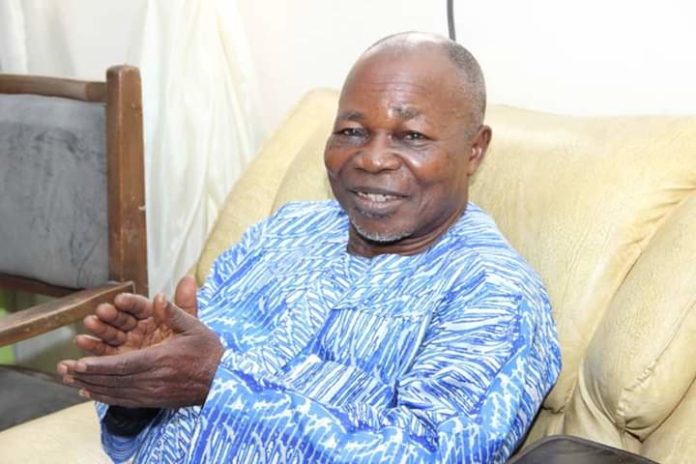 Tomorrow, Tuesday, 16th day of April, all road leads to the NUJ Press Centre, No. 1 Aba Road Umuahia for the 80th birthday celebrations of the oldest practicing journalist in Abia State, Comrade Josiah Akwarandu popularly known as De Joe.
Born on April 4th 1939, to the family of Pa Benneth Akwarandu Ahuchauba
and Mrs. Fanny Nwajurungwa Ahuchauba (nee Wachukwu) all of blessed memory at Umuekwe, Umuocheala Owerrinta in Isialangwa South LGA of Abia State. Life was not a bed of roses for him as fortune seemed not to have smiled at him, owing to the unfortunate loss of his mother when he was just 8 months and the father, 10 years later when he was preparing to be enrolled into school with his mates.
However, out of sheer ambition and unfettered determination to make it in life, little Josiah Akwarandu took up the challenge at a tender age to fend for himself by going into the forest to fetch firewood and palm nuts to sell and pay for his education. Being an orphan, who found favour from God, young Josiah was fortunate to be fostered by his father's younger sister, Rosanna Nwangaji Ahuchauba. He finally found himself in school and in 1951, precisely, he made history as he was given double promotion from standard one to read standard three due to his brilliance in the examination. As God always makes a way where there seems to be no way, God sent a messiah in the person of a cousin to his late father, Mr. Aaron Sunday Akwarandu, a civil servant . This man took him to his station in far-away Cameroon (Cameroon was then under Nigeria as a colony), He enrolled in school and excelled too. Later, Comrade Akwarandu joined his uncle at Enugu who was a renowned photographer. It was here that young Josiah developed deep interest in photography. He served as an apprentice under the uncle until 1962 when death gave him another blow and snatched away the uncle. At this point, it was as if the world has ended. However, he decided to forge ahead with his life by managing the big photo studio the uncle left behind. But God was with him and never forsook him, after all He works in a mysterious way, His wonders to perform. It was at that studio that he made many friends including Cyprian Ekwensi, Tony Nkememena among others
as well as picked interest in photojournalism having been exposed to certain assignments. It was the contacts he got at the studio that introduced him fully into photojournalism in 1963 when he was hired to cover the visit of Dr. Julius Nyerere of Tanzania by the Daily Times newspapers. After the Nigeria/Biafran war, he worked with the Daily Star newspapers in 1976, an employment he secured through the help of Mr Cyprian Ekwensi, the popular novelist.
This high flying professional was later sent to Lagos by the Daily Star. At the creation of Imo State in 1979, he switched over to the Nigeria Statesman published by Imo Newspapers Limited. De Joe's migration continued when in 1991, he became a pioneer staff of Abia Newspapers Corporation, publishers of the National Ambassador Newspapers at the creation of Abia State, God's own State. De Joe Akwarandu finally served and retired at the Office of the Head of Service Abia State under the Permanent Secretaryship of Comrade Chimdi Oluoha who was the Editor-in-Chief of Service Monitor, a monthly tabloid published by the Office of the Head of Service, Abia State.
The unquenching zeal and zest to remain in practice as a journalist made De Joe to continue to write for different media houses till date. At present, De Joe is the Correspondent of Orient Daily Newspapers.
It is important to mention that Joe Akwarandu featured prominently in 1963 during the visit of Dr Julius Nyerere to Nigeria, FESTAC '77 Lagos, Second Republic Handover of General Olusegun Obasanjo to Shagari in 1979, visit of American President, Jimmy Carter to Lagos 1979, Common Wealth meeting in Lagos 1979, ECOWAS meeting in Abuja, 1981, Nnamdi Azikiwe's Presidential Campaigns 1983, the 8th All Africa Games, Abuja 2003 and FIFA World Cup in Nigeria 1999.
This giant of the pen and celebrated paparazzo apart from other courses, trainings and symposia he was exposed to also in 1987 gained admission to read Photojournalism/News Reporting at the University of Jos, PIateau State, an experience that qualified him to be a registered and licensed practicing Journalist. You need to see how De Joe hunts news as other younger practitioners do. In fact, he is an embodiment of encouragement to the younger generation of journalists, especially, the photojournalists.
God has so blessed De Joe to the level that he still reads and writes without eye glasses even at 80. What a grace! Also, De Joe is still vibrant and agile, practicing his beloved trade; journalism with pride. De Joe has remained very amiable and admirable. His gait and style of movement also draws admirable attention.
As members of the noble pen-pushing profession in Abia State assemble tomorrow to celebrate with their oldest colleague, it is our prayers that God keeps blessing him even as his ink remains undried. We wish him many more healthy years. Congratulations noble colleague! Congratulations Paparazzi! Congratulations De Joe! You are blessed!
De Joe has a lovely family of four and the wife of his youth, Mrs Grace Nwamara Akwarandu. They are all grateful to God for His benevolence unto them. To God be the Glory! Amen!
---
Disclaimer: infonte9ja.com shall not be liable to Opinions, Articles or Features that doesn't emanate from any of its staff and management. We also wish to reiterate that such personal or sponsored opinion, article or feature does not reflect the views of the publishers of infonet9ja.com, but the writer's
---
For publication of your news content, articles, videos or any other news worthy materials, please send to infonetnews9ja@gmail.com | For Advert and other info, you can call 09061217047 or send a WhatsApp Message to 09061217047
---
From Divine Nwankwo, your admirer.